The Gulf region is an important part of Centara's growth plan. Hence, two new properties are scheduled to come up this year in Muscat and Doha respectively with one recently announced in partnership with Nakheel in Dubai, set to open in 2020. Paul Wilson, Vice President of Sales, Centara Hotels & Resorts speaks to TravTalk.
Peden Doma Bhutia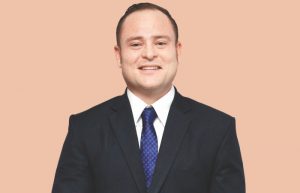 Q Can you give us an overview of the Centara property in Dubai?
Centara in Dubai is a very exciting prospect for us, it will have over 500 rooms in an upscale beachfront property with water park, dining facilities, business centre, kids' club, spa and fitness centre. What will become Centara Deira Islands Beach Resort Dubai is going to be very family oriented and is located on Deira Island, Nakheel's latest prime real-estate development project. As this will be the first Centara establishment in the UAE, we are targeting a mixed audience, with vacationers from Saudi Arabia and throughout the Middle East, as well as Europe and Asia. We'll stay true to what Centara does very well, which is the family market.
Q What about the MICE facilities at the hotel?
The hotel has an excellent conference facility, which can handle 400-500 persons. The main conference hall will have no pillars and plenty of natural daylight, thanks to the group's ability to brief that very early on, so it will be very unique and very technology focused. There are so many hotels in Dubai with conference facilities lacking in natural daylight and broken up with pillars, we see our spacious and light facility as a key differentiator.
Q A hotel that unique would be having a lot of USPs, can you enlist some of the biggest attractions of the property?
The four star market is something that's definitely needed in this region and that's the big USP for Centara's new property in Dubai. Then of course, Thai hospitality is the best in the world and is exemplified by the eminent Centara brand. We reflect our "Thainess" in the details of service we provide; authentic Thai cuisine, traditional Thai spa treatment, the Thai service mind vested in our operations staff, as well as our luxurious room amenities with the Thai touch. In addition to this, the size and the magnitude of the Dubai property is something that hasn't been seen before in the four star category, to the level of the water park, the varied F& B outlets, the club lounge and the children's recreational club. Service and experience are amongst the main keywords for us.
Q What are the feeder markets that you are planning to tap for this property?
Centara is blessed with a number of active global sales offices and Dubai is the second most visited city in the world after Bangkok. We would like to tap the local expat crowd within the GCC and very soon we are opening our very first hotels in the region, in Muscat and Doha respectively, so we will be sharing our client portfolios there. The UK market is vital in Dubai and the minimum length of stay in Dubai is increasing. Earlier, Virgin Holidays used to achieve an average of only a 2-3 night stay in Dubai, now this has risen to 5-6 nights. Dubai is definitely good as a drop-in destination for our long-haul market. We'll be focusing on the UK, Germany, Scandinavia, and of course India. In short, every main market is a feeder market for us and we are very specific on the strategies we follow.
Q Could you tell us more about Centara's foray into Doha?
The Doha property is a five-star property, set in the new business and shopping district West Bay. The property will have 261 rooms and suites plus an attached suite hotel with 96 apartments that vary from one to three bedroom units. Centara Grand Hotel Doha will have Centara's own signature Thai restaurant, Suan Bua along with four other F&B outlets. The rooftop will feature a unique restaurant and a rooftop bar with stunning city views along with a swimming pool and relaxation zone. Other facilities include the award winning SPA Cenvaree with 16 treatment rooms over the entire floor, with male and female facilities and private hammams, Club level business rooms and Centara Club Lounge, ballroom and meeting facilities. We are bringing something unique and authentic to the market. As one of the biggest hospitality players based in Asia, Centara is a very well-known brand and now it's arriving in the Middle East. Q So, being a super luxury property will your target crowd change? For the Doha property, the target crowd is FIT and leisure and of course the corporate crowd. We have a lot of corporate business from Saudi Arabia, and will focus on that market. To complement this, we have state-of-the-art custom meeting facilities, a ballroom, breakout rooms, and rooms equipped with high technology.
Q Technology today plays a pivotal role in hospitality. How important is technology for your properties?
Technology for Centara boils down to the fact that it needs to work. If you are in the room you need to be connected, your laptop, phones etc., need to be connected. Connection speed, I think, is very important and we focus on that. Conference and technology facilities are massive for us. Q What are the trends that you have witnessed in the hospitality industry in the Middle East For hospitality in the Middle East, the volume is just astronomical. When dealing with such large volumes you need to have the best revenue strategy tools and the best energy management tools. Increased focus on data management and analysis technology is the biggest change I've seen. Now, it's all about how fast you get access and at what time.
Q How do you plan to work with travel agents?
Thailand is a big tour operator destination; we have fantastic relationship with our agents and we reward our key clients. We offer incentives, and it's about working on the 80/20 rule, 80 per cent of your revenues from 20 per cent of your clients. We focus on the ones who continue to support Centara.
Q What's your strategy for the Arabian Travel Mart taking place in Dubai from April 24-27?
For us, the trend is to keep it simple. We'll be there on the stand with all our marketing collateral to make sure that people know that we've arrived. We have also set up meetings with larger corporations and travel partners. We have a very good representation team, and we are taking up lots of appointments, table top sessions etc.