The emirate offers an authentic Arabian and cultural experience in close proximity to sandy beaches and boasts a wide selection of outdoor adventures that cater to all the members of a family.
TT Bureau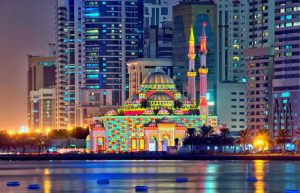 The Emirate of Sharjah has firmly established itself as a year-round tourist destination, attracting families and travellers seeking to truly explore the region and immerse themselves in its traditions, identity, and culture. The emirate offers them an authentic Arabian experience in close proximity to sandy beaches, basking in perpetually warm weather.
A visit to Sharjah is never complete without a stop at Al Majaz Waterfront. Boasting an impressive line-up of exquisite landscaped gardens, cafés, shops, and kiosks that cater to all tastes, the waterfront is home to the imposing musical fountain. Stretching as long as 200 metres in width, and thrusting water as high up as 100 metres, the Sharjah Fountain is truly a sight to behold. In addition to that, the waterfront features an open-air Roman-style amphitheatre — the first of its kind in the region. Located on Khalid Lagoon's Al Majaz Island — and covering a surface area of 7,238 square metres — the semi-circular theatre includes several terraced seating areas that can accommodate up to 4,500 spectators.
Travellers don't need to wander too far from Al Majaz to find themselves facing Al Qasba waterfront. Centrally located within the city of Sharjah, Al Qasba is easily accessible from anywhere in the city, and offers a range of trendy restaurants and cafés lining up its banks and serving cuisines from around the world. Towering over the waterfront and dominating the skyline, the Eye of the Emirates Wheel stands 60 metres tall. From its highest point, visitors can enjoy the breath-taking views of the city's landmarks, as well as the Gulf coast stretching all the way to Dubai. Al Qasba reiterates Sharjah's cultural inclinations, offering events that combine culture with entertainment and continuously striving to develop leisure activities that highlight the Arabic and Islamic heritage of the emirate.
Meanwhile, the recently completed Al Noor Island, engulfed in the emirate's famed Khalid Lagoon, is accessible via a pedestrian bridge. The most prominent structures on the island were designed to invoke nature — butterflies, in particular. The island features a Literature Pavilion, including an open seating area for writers and book lovers, an egg-shaped OVO Art Sculpture — that has been displayed in major cities around the world — and a Butterfly House (one of the destination's main attractions), which harbours as many as 500 exotic butterflies brought from Far East Asian countries.
The Heart of Sharjah, moreover, is a microcosm of the blend of history and progress than characterises the emirate. Sharjah Al Hisn Museum — the crown jewel of the Heart of Sharjah — occupies a historic fort that once served as the seat of the emirate's Government, the residence of the Al Qasimi ruling family, and a jail. A two-storey traditional rock, coral, and adobe fortification built in 1823 in the centre of the city, the structure now houses a collection of artefacts, photographs, and heritage items that cast an enchanting image of past centuries. Other heritage offerings in the Heart of Sharjah include the Sharjah Heritage Museum; Traditional Games House, which aims to bring traditional folk games back to life; and the Emirates Handcraft Centre, which showcases how many tasks were handled in bygone days – most notably, the production of "dibs"; among others.
Overlooking the Sharjah Creek, the Heart of Sharjah is also home to four winding souks: Souk Al Arsah, Souk Al Shanasiyah, Souk Saqr, and the Old Souk. With its coral-brick walls, wooden doors, and hanging lanterns, Souk Al Arsah — believed by many to be the oldest in the UAE — conjures up a quintessentially Arabesque ambiance, complete with shopkeepers serving suleimani (a sweet and spicy tea) to their patrons as they narrate their family's history with their craft.
Souk Al Shanasiyah, meanwhile, was built on the ruins of a much older souk that were discovered following excavations in the area between Al Hisn Fort and the Corniche. The souk gets its name from the merchants hailing from the state of Shanas in Oman who used to populate the market. The 25-year-old Old Souk, on the other hand, is home to Al Daleel Mosque — the oldest mosque in the city — as well as the Sharjah Art Museum. Sharjah is a family destination par excellence; all members of the family are guaranteed to find something to their liking in the emirate, from dazzling shows and carnivals to enchanting parks and stunning desert landscapes, as well as an array of cultural and edutainment locations. Visitors can relax with their families in any of the nearly 55 parks, which offer the latest facilities and amenities. The emirate's latest destination for a family day out is the Al Montazah Park, a 126,000-squaremetre theme park featuring eight thrilling rides. For adults and children seeking an extra bit of adventure, the park offers Al Montazah Adventures, which consists of a number of gladiator-inspired obstacle courses divided into varying difficulty levels.
A shoppers' paradise, the emirate is home to a host of modern malls, many of which include massive entertainment centres for children: Sahara Centre, for example, houses an indoor family entertainment park — Adventureland — complete with an Aztec- and Mayan-inspired interior, as well as electronic games and rides, including an indoor roller coaster. Sharjah Mega Mall, meanwhile, is home to Antic's Land, a "distinctively themed" family entertainment centre, comprising three mystical lands with unique rides, edutainment activities, a roller coaster, a monorail, 3D cinema and haunted house, and the latest video games. Additionally, and perhaps most famously, the Emirate of Sharjah has long been a magnet for culture enthusiasts seeking a deeper understanding of the civilisation of the Arab region, both traditional and contemporary — and for good reason.
From its fairs and festivals to its museums and universities, Sharjah truly holds its own as a cultural capital in the region. The traditional Arabian and Islamic architecture that characterises much of Sharjah's landmarks bear faithful witness to the emirate's dedication to preserve its culture. To shed light, quite literally, on that aspect, the Sharjah Commerce and Tourism Development Authority organises the now-world-famous yearly Sharjah Light Festival, whereby landmarks across Sharjah bear three-dimensional light displays for nine days each February. Away from architecture, Sharjah pays particular attention to art and literature, among other cultural activities. The emirate has been organising the Sharjah International Book Fair (SIBF) every November since 1982. The 10-day fair regularly attracts upwards of one million attendees every year (SIBF attracted 1.2 million visitors and 1,547 exhibitors from 64 countries in 2015). The American University of Sharjah (AUS), meanwhile, boasts an 11,000-square-metre library housing a staggering collection of 125,000 English-language books, as well as literature in other languages — chiefly Arabic.
As for art, the Sharjah Art Museum presents itself as a threestorey exhibition space showing artworks and collections covering various mediums and techniques. The museum welcomes patrons every day from 8:00 am to 8:00 pm (4:00 pm to 8:00 pm on Fridays) free of charge. Throughout the year, the museum houses several temporary exhibitions and art events. The Museum's Art Library, meanwhile, is home to over 4,000 titles in Arabic, English, and other languages, along with visual and audio materials. The emirate has also established a dedicated Calligraphy Museum. In over a decade of operation, the Sharjah Calligraphy Museum has managed to collect over 300 works adorning canvas, wood, paper, and ceramics. The assortment includes historic paintings in the Kufic font and, most notably, the Al Hulia Al Sharifa by Iraqi calligrapher Ziad Al Muhandis (measuring 280x300cm and considered the largest in the Islamic world).
For the outdoorsy and adventurous, the emirate offers water sports, snorkelling, and diving activities on its east coast, where travellers have the option to either camp on the beach or stay in any of the hotels that line the coast. The emirate also offers plenty of attractions for nature lovers and environmental enthusiasts. Sharjah boasts a rich and diverse ecosystem; protected areas form 4.6 per cent of the area of the emirate and are divided into eight conservation centres — namely, Jazirat Sir Bo Naair, Alqurm Wa Lehhfaiiah, Wasit Nature Reserve, Ed Dhelaimah,Wadil Helo, Mleiha Protected Area, Elebriddi, and Lemdynah. From family outings and urban tours to cultural excursions and outdoor expeditions, Sharjah doesn't play favourites. The emirate has something on offer for all visitors who make the journey to its golden dunes, azure beaches, and glittering skysc