Centara Hotels and Resorts continues to expand internationally with the opening of a four-star, 152-room hotel in Muscat — its first of three hotels planned for the Middle East. The Thailand-based hotel operator is also looking at opening properties in Doha later this year and Deira Island in the UAE in 2020.
TT BUREAU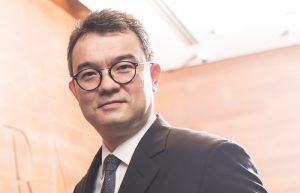 The Centara Muscat Hotel is ideally located in the Omani capital's bustling Ghala Heights business district, close to the convention centre, Royal Opera House, and the Sultan Qaboos Grand Mosque. It is conveniently mid-way between the airport and historical district, about 15 minutes from each. The hotel is a modern new building featuring three restaurants, a spa, and a rooftop pool and terrace with views out over the Gulf of Oman. Its premium lounge, banquet and meeting facilities, complimentary Wi-Fi, plus proximity to Muscat's shopping and historical sites, are designed to serve both business and leisure travellers.
Centara is known for combining Thai qualities, such as its service and spa treatments, with Thai and international cuisine. The new Muscat hotel follows this blueprint. Akdeniz, an authentic Turkish restaurant, features fine coffees, Middle Eastern snacks and mezzes, plus meats and fresh fish seared on a traditional Ocakbasi Grill. Tip-tara restaurant serves Thai dishes and international choices, while The Roof offers a relaxed venue for barbeques and private events. Centara's signature SPA Cenvaree offers a variety of therapies and treatments, plus Thai herbal spa products. The rooftop pool is complemented by a children's pool and fitness centre.
Generously appointed rooms and suites feature large windows that frame the city streets. Premium Club rooms come with extra benefits, including access to the top-floor lounge where three meals are served daily. Club Suites offer comfortable living rooms, ideal for couples, small families or business travellers who want extra space to relax.
The hotel's 237-squaremetre banquet hall is large enough to accommodate cocktail receptions of 280 people. Three smaller venues include a boardroom which can be adjusted to fit a range of uses. Another conference room, along with the pleasant rooftop terrace, can accommodate up to 80 people – ideal for an evening event, with the Gulf of Oman as a glittering backdrop.
Thirayuth Chirathivat
, Chief Executive Officer, Centara Hotels & Resorts, said, "Introducing Thai hospitality culture for the first time to this historic crossroads between East and West is an exciting opportunity. We believe a thoughtfully-designed, modern facility in this ideal location will be a    welcome addition to Muscat, whether you are here on business or vacation."